Soap Bars
ARTISAN SOAPS
Our artisan soap bars are made using the same method that was started in ancient Babylon. We modernized it and achieved the most gentle, skin-loving soap!
GLYCERIN SOAPS
We use detergent free, high quality glycerin base to create unique and fun soaps that will last a long time in your bath! Every bar is full of skin loving glycerin, gentle on hands and body.
View Collection
Soaps for sensitive skin
Now we offer the amazing, fragrance free, botanical infused and the most gentle soaps. All soaps in this collection are coconut oil free and fragrance free. They are rich in shea and cocoa butter and specialy selected additives to promte healty and beautiful skin. Choose conscoiusly!
Custom soap flower bouquets
Decorative, beautiful and trully unique gift that will last forever... or until used.
Gently fragranced, realistic looking soap flowers will complement any room decor.
Perfect as a table centerpiece for any ocassion, too!
Made to order with high quality glycerin soap.
Contact us for more info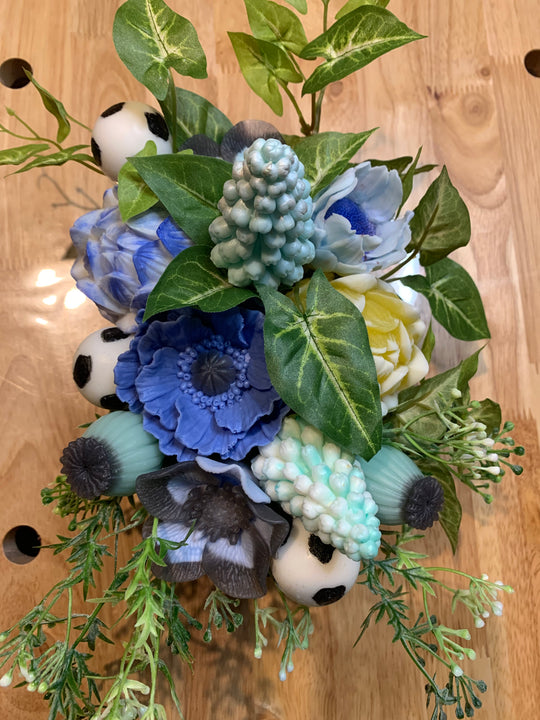 The art of soap making
We look for inspiration in nature - the greatest artist. Our creative process does not include only picking colors and shapes, but also bringing the amazing plants, herbs, flowers and vegies to our creations. Litteraly from our garden to your shower - you can enjoy the nature's purest, beautiful products that will transform your bath time into spa experience eveytime!
Follow us on IG @monikabotanikainc
Proudly giving back
We are giving back by supporting the Eco-Soap Bank mission. Eco-Soap Bank collects soap scraps and monetary donations from makers and employs women to recycle and create soap in the developing world. #ScrapPack